about Hagar Gamil
Senior Editor & Live Reporter
-Graduated from Faculty of Mass Communication ,English Section &Presidential Leadership Program Graduate 
-Sign:Pieces 
-Best Arabic Song: "Amarin" -Amr Diab
-Best English Song: "I Will always love you"- Whitney Houston
-Secret You don't Know about me : Hates walking On Beach Sand
-When I was Young one of my dreams : To Work in the Circus 
-I  like working at Radio Hits because I feel at home ,working with people who are making me feel Comfortable ,I love  creating new ideas that makes people informed or happy.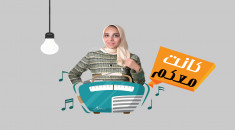 Kanet Ma3kom
Presented Show
Hagar Gamil brings to the listener light stories from all over the world. It shows positive figures and projects ,interviews them and gives the opportunity to audience from all over the globe to be the reporter..