about Hend Hazem
- Faculty Of Mass Communication
- Sign: Cancer
- Favorite Arabic song: "Keefak Enta" - Fayrouz
- Favorite English song: The winner takes it all - ABBA
- Secret you don't know about me: I'm always scared of any moving creatures except human, and sometimes i'm scared of human beings.
- I like working at Radio Hits: we help each other, non-routine work, we always have fun and laugh!.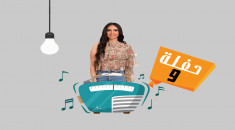 7aflet 9
Presented Show
A show that will take you everyday in the mood of a Party with social and interactive light topics/games..