about Nashwa Mostafa
- Sign: Pisces
- Favorite Arabic song: Borg el 7oot- "Amr Diab
- Favorite English song: Stand by me
- Secret you don't know about me: I'm afraid of the mice more than lions.
- I love working at Radio Hits for its spirit, direct contact with our beloved listeners (they're listening to us as we are listening to them) exactly like theatre!.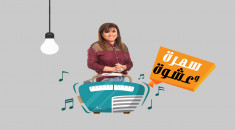 Sahra w 3ashwa
Presented Show
Our Amazing Nashwa Mostafa is presenting variable social topics ,as well as interviewing different stars in all fields. - Genre: Entertainment.