about Omar Gunz
- Faculty Of Mass Communication.
- Sign: Virgo
-  Favorite Arabic song: "Ana Leek"- Samo Zein.
- Favorite English song: "Tubthumping"- Chumbawamba.
- Secret you don't know about me: I have air-plane phobia
- I like working at Radio Hits: it's the only radio station that gives me freedom to talk like all my talks on social media..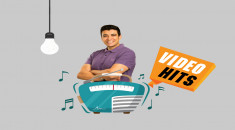 Video Hits
Presented Show
Omar presents every week different topics, it focuses on the reviews for gadgets, movies, tips for families for using/not using certain products with health background. This show can be heard on radio hits and seen "live" on gunz FB fanpage at the same time..