about Tamer Adel
Senior Presenter
- Faculty of Commerce
- Sign: Sagittarius
- Favorite Arabic Song: "Men gheir leh"  Abdel Wahab
- Favorite English song: "comfortably numb" Pink Floyd
 - Secret you don't know about me: I wish and still wishing to be a "Pilot" I love hearing songs on the radio more than radio shows!
- I love working at Radio Hits because simply Radio Hits is "home"..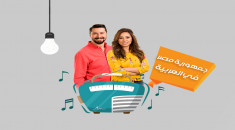 Gomhoryet Masr F El 3rabya
Presented Show
The main Drive back show for five consecutive years, based on entertainment summing up what happened in the day from news (political, social media, arts, sports). 3 topics different interactive topics per day.Presented by Tamer Adel &Menna Amer.