ABOUT Hits By Hits
 Shoukry presents  to you top charts every week !.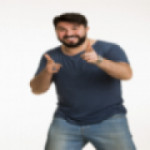 Mahmoud Shoukry
presenter of the show
Presenter and Main male "vocal/singer". - AUC Graduate, Faculty Of Mass Communication. - Sign: Capricorn - Secret you don't know about me: I love to cook, addicted to video games, and love to sing, dance and act! - I love working at Radio hits for many reasons, from the amazing talented colleagues to the diversity that the station represents.. the merge between old and new .. the middle east and west cultures and songs!.